WHAT
A NEWGROUNDS MEETUP IN TORONTO, ONTARIO (at Christie Pits Park)
AND
A THEATER SCREENING (15$ CAD A TICKET, at The Royal Theater on College Street)
OF A BUNCHO SELECTED NEWGROUNDS CARTOONS
WHO?
ALL AGES THIS TIME!!! ANYONE IS WELCOME!!!
TICKETS ARE ON SALE AT EVENTBRITE! GO NOW
Will be showing things that can vary between G rated and R rated, but nothing explicit (sorry @Derpixon fans…)
The theater DOES serve alcohol though, so if you plan on drinking, you WILL be wristbanded or someshit like that!
Afterwards many people will likely filter into one of many nearby bars, so the "afterparty" WILL be 19+ (Ontario drinking age)
WHEN
JULY 29TH 2023, SATURDAY
ABOUT 2PM FOR THE MEET
4PM - THEATRE DOORS OPEN
5PM - FEATURE PRESENTATION
8-9PM - THEATRE DONEZO, HEAD TO BAR (to be decided…. there are many bars / places to go to in the area, so we can play by ear…)
WHAT PART 2?
Last year's Toronto Newgrounds meetup was pretty damn awesome, and I met a lot of friends that I still see and talk to today! This year is a bit more ambitious.
Over the past year I've been going to the cinema a bunch more, and it reminded me of one of the classic Newgrounds meetups / events, organized by PhantomArcade… renting out a damn theater to show a buncho cool Newgrounds cartoons…. got me damn thirstin…. so here we are…
SO this time we are going to pull up to CHRISTIE PITS PARK, which is right by Christie Station on Line 2. Have a nice little meetup, picnic type bullshit and everyone hangin around outside. THEN walk down the street for about 10 minutes (big field trip) to College Street, and we will be by THE ROYAL theatre, which we will be renting out specifically for awesome Newgrounds cartoons.
Theatre will be a TICKETED EVENT, and the tickets cost 15$ CAD, and will be available on Eventbrite. If ur broke, you can still meetup at Christie Pits park though!
WHERE?
The MEETUP is at Christie Pits Park in TORONTO ONTARIO CANADA. There's a subway station right next to it, and the Toronto subway is not at all complicated. It'd be near Christie Station!
The THEATER is at THE ROYAL THEATRE on College Street, in TORONTO ONTARIO CANADA. It's a bit down the street from where the meetup is happening, but hopefully no one dies of heat stroke on the way there.
THE GUEST LIST
(otherwise known as the people who told me they will definitely show up)
AND YOU! (and many more maybes....)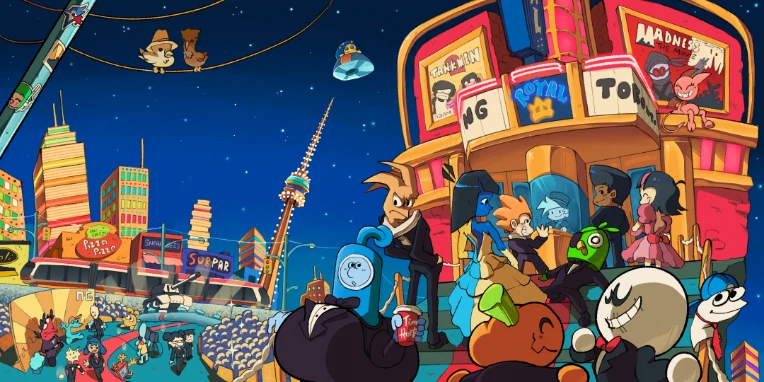 Art by @Snackers
PURCHASE TICKETS HERE
https://www.eventbrite.ca/e/newgrounds-toronto-meetup-theater-screening-2023-the-royal-tickets-629589799037