NEWGROUNDS TORONTO MEETUP 
WHEN:
JUNE 25TH 2022, SATURDAY, ABOUT 2PM-ISH I THINK WOULD BE PLEASANT
WHERE:
College Park on Yonge Street, Toronto, Canada - initial meet and chill (that little nice outside area)
then 
Fran's Restaurant and Bar, 20 College Street (right around the corner from College Park)
WHO:
AGES 19+ (DRINKING AGE IN ONTARIO CANADA), NO ONE UNDERAGE BECAUSE WE WILL GO INTO BAR AND YOU WILL NOT BE ALLOWED IN LOL!!! SORRY!!!!
WHAT?:
I recently moved to Toronto, and I am all ALONE. Toronto is a pretty damn big city, so there's gotta be a buncho Newgrounds people creepin' around here. So I am organizing a TORONTO MEET UP!!!!
Idea is we pull up to COLLEGE PARK (near the corner of Yonge and College), nice midsummer day, and then we hit FRANS, a nice little BAR…. that means you MUST BE AT LEAST 19 YEARS OLD AND HAVE VALID PHOTO ID, ALL THAT BULLSHIT TO GET INTO BARS TO DRINK ALCOHOL.
If this meet goes pleasantly, can prob do anotha one maybe in the fall thats more all ages. But for now it is AGES 19+!!!!
Already I've sent a few feelers out there, and have a solid list of people rollin', so it won't be a DUD meetup.
COOL PEOPLE WHO ARE LIKELY TO ROLL UP IN NO PARTICULAR ORDER
@ninjamuffin99 (me >.<)
A few of these fellas happen to be flying in, but no pressure on you to do so. In my brain, I can see this as just a lowkey little event for the locals, nothing like some big Pico Day party, just to set expectations and all that. If you wanna make a trip out of it for yourself go for it, if you're down the street and feel like popping by, also go for it.
If you think you are DEFINITELY down to pull thru, shout about it in da replies. Getting a gauge on who's coming, and how many people is very exciting and fun heheh. (and maybe there can be some memento for people who pull thru….)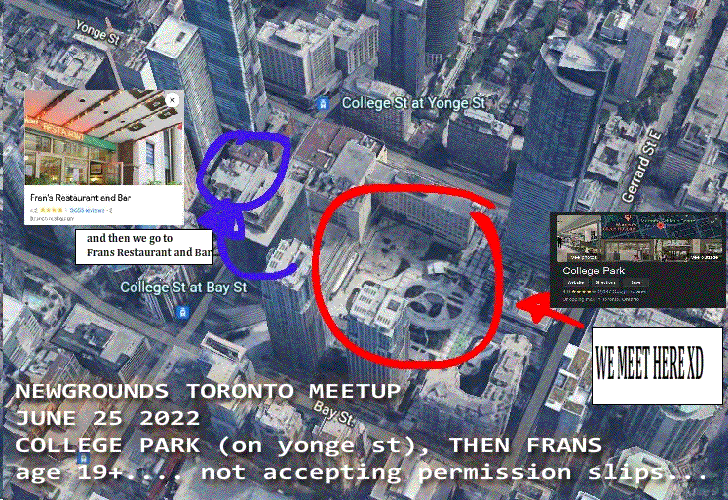 after frans will prob go more hanging around and bar hopping around XD